A few weeks ago, after I started the books review section, I thought about what I could do more for the horror writers and readers. Among other things I had an idea about a collective horror novel, a novel that we all would contribute to and, when finished, would become freely available for anyone. I even talked to some of the authors present here, on Grey Zombie, about the idea and they liked it, too :).
What happened in the meantime? I discovered Project "One Night Dead", a project that takes the idea of collective books to the next level and adds a special flavor combining the collective book idea with "choose your own adventure" style.
Let's have a look at the video presentation from Project O.N.D. (click the image bellow to watch the video)
About the concepts behind Project O.N.D.
1. Collaborative writing
About collaborative writing Wikipedia says "The term collaborative writing refers to projects where written works are created by multiple people together (collaboratively) rather than individually. Some projects are overseen by an editor or editorial team, but many grow without any oversight. Collaborative writing is also an approach for teaching novice authors to write." (wiki)
Collaborative writing has many benefits for both writers and readers.
For writers it is a very good exercise with fast feedback. There are many ways to exercise writing but receiving fast feedback is, sometimes, a challenge.
With a project like this, the feedback received is not only fast, it is also valuable because the writer interacts with readers of all kinds and with other writers, beginners or experienced. The project also has a forum where a writer can dig deeper into the details of each chapter.
For readers is good in many ways. Readers can test their writing talent, see if they can "do it also" but the main benefit is that they are part of an epic adventure.
2. Choose your own adventure
"Choose your own adventure"  style, also known as "Gamebook" (because Choose your own adventure is still trademarked) allows the reader to make choices and participate actively in the epic adventure. Wikipedia says "A gamebook is a work of fiction that allows the reader to participate in the story by making effective choices. The narrative branches along various paths through the use of numbered paragraphs or pages." (wiki)
There are many ways to implement this concept, you can have certain events (parts of the book) that are the same for all paths, you can have the same ending for all paths or you can have a huge amount of paths available.
3. Combining the two concepts
When you combine collaborative writing with choose your own adventure you get a project with high potential. You have all the benefits of collaborative writing and the maximum potential of a gamebook, a huge epic adventure with infinite paths and endings, you even have the potential to build a never-ending story.
Why Project O.N.D.
is

important for us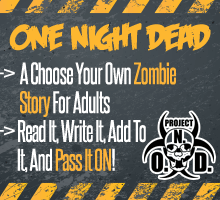 What's even better for us, horror fans? That Project O.N.D is a zombie story and we all love zombies.
Project O.N.D. is well-built and it comes with the following sections:
the

story: where you can read the story, follow the path you want, vote on the content or submit your own chapters

a

blog: where you can see what the people behind the project or the members are posting

a

forum: where you can interact with other readers / writers, get feedback, talk about the chapters or the project
In order to interact with Project O.N.D. you need an account but you can register very easy and it's free.
A quote from the book
You switch to the local cannel on the TV and see a scene outside of what looks like a club in the city near by. There are police cars and lights flashing around the outside of the place. A reporter is speaking…….. Volume…..Volume…….

You crank up the volume as quick as you can and catch the end of what the reporter is saying…….

"It's unknown at this time the number of injuries that may have taking place, or the reasons behind it. There appears to have been some sort of brawl that may have broken out, here at "The Night Flash". Reports so far are that people were attacking each other before the police were called in. It seems now that the police may have things under control. We will report more as soon as we learn more details. This is ……" the voice of the reporter is cut off by the remote in your hand.